David Mussen Interview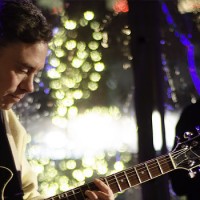 By Seamus Gallivan of The Good Neighborhood
David Mussen might be the most prolific Robot Holiday songwriter – he's developed a knack for serving songs of varied styles that he often doesn't even perform on himself, able a multi-instrumentalist as he is.
Sometimes peculiar, others profound, always poetic, Dave's songs capture the spirits of  so many characters, relationships and moments that define the holiday season.
Get to know Dave below, and join us on Friday, December 6th, as Robot Holiday headlines the second annual Holiday Live at Larkin presented by First Niagara!
How did you first get involved with RH?
According to my copy of the police record, Jonathan asked me if I wanted to write something on October 19th, 2005. He showed up at my house at three in the morning, smelling of paint thinner, threatening that if I didn't write a song he would kill my cat. I didn't even have a cat, but I wrote "North Star of My Soul" and "Lonely Christmas Eve" anyway.
Click here to listen to and download for free the original 2005 version of David's "Lonely Christmas Eve"
"Lonely Christmas Eve" was the first song that I wrote for Robot Holiday, and maybe my favorite. I think the acid test for a good song is if it can be played as a bossa nova. I had been carrying around the image of sculptures made by the wind since I was sixteen years old, so I was glad to find it a home.
Click here to listen to and download for free the rearranged 2012 version of David's "North Star of My Soul"
"North Star of My Soul" was the second song I wrote for Robot Holiday [the original version was recorded in 2005]. The lyrics were originally written for an entirely different song. When Jonathan asked (berated) me to try to come up with something for 2005 I went back to this song, but couldn't find the music, so I took the lyrics and re-wrote the song.
Has your work with RH influenced your overall approach to making music?
I like writing songs so I'd be doing that anyway, but Robot Holiday provides a thematic challenge that I enjoy. Because there are so many talented people involved, as a songwriter it's been great because I feel like I can try my hand at various styles of music without worrying whether or not it can be pulled off.  
What's your favorite RH song – of your own as well as that of another member?
I think my favorite song of my own is probably "Lonely Christmas Eve." I have a lot of songs by everyone else that I like but I'll go with "Old Joy" by Jim and Lisa, since I've been listening to it lately.
Click here to listen to and download for free Lisa Forrest & Jim Whitford's "Old Joy"
From Lisa Forrest: "The older I get, the more I'm able to look back at the hard lessons with gratitude instead of sorrow. "Old joy taught me to laugh, and it taught me to weep."  The lyrics are a combination of two of my poems (written 15 years ago), a short journal entry from the water color artist Charles Burchfield (I recalled something he wrote about curling up under two pine trees), and a little bit of wisdom.  "All this snow piled out the door/ you did what you knew/ now you know right."  Jim Whitford once again helped me to carry this song off the page — his vocals and guitar playing add such a richness to the lyrics. "Warm winter in my heart….old joy of mine."
What's your least favorite holiday song?
Probably "A Politically Correct Holiday Story." I don't know why, but I thought it was funny at the time.
What's your favorite robot?
I assume you mean who, not what. I'm going to say V.I.N.CENT ("Vital Information Necessary CENTralized") from the movie The Black Hole. I'm a short loser just like him. 
Is there a holiday subject, new or old, that you feel needs to be addressed still in a RH song?
A four-part instrumental suite that tells the tale of the life of a sled.
What other projects are you involved with throughout the year?
I write all year long, and usually do the RPM challenge in February. I also play clarinet and saxophone in The Stamplickers and the 12/8 Path Band.
Comments
comments