Dee Adams Interview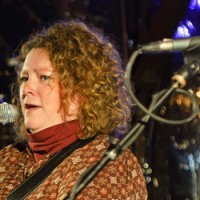 By Seamus Gallivan of The Good Neighborhood
Dee Adams' delightfully disciplined voice commands a wide range of the Robot Holiday canon over the past five years – her own songs are certain standouts for their distinct structures and subjects, and her harmonizing ability makes her a go-to member of the crew when others are solidifying their songs.
On a personal note, it was Dee who came to me in 2010 when the group decided to take these songs to the stage for the first time, and with our mutual love of and loyalty to the Sportsmens Tavern that's shared by most members of Robot Holiday, it was the perfect place to bring this show to life. While we're all thrilled that Larkin Square has since emerged as a much larger and no-less welcoming home for this event, Dee and I are in turn working together on another holiday-themed event at the Sportsmens, to be announced soon…
…In the meantime, get to know Dee below, and join us on Friday, December 6th, as Robot Holiday headlines the second annual Holiday Live at Larkin presented by First Niagara!
How did you first get involved with Robot Holiday?
I had met Jonathan Hughes while singing harmonies for the Rob Falgiano Band in 2009, and told him if he ever needed a backing vocalist for any of his projects that I'd love to work with him. He took me up on it. That year, 2009, was the first time I was involved with Robot Holiday.  
Has your work with RH influenced your overall approach to making music?
There are a couple of ways my approach to making music has been broadened working with these folks, having mostly to do with recording. Here's a secret – I don't love the recording process; I'm much more comfortable performing live shows. Being able to sing and produce a nice tone is where recording vocals starts, but you have to be consistent, flexible, and not waste anyone's time when you are in a studio environment.
I'm still sort of customizing my method of learning, practicing, and recording a vocal part, and being given the opportunity to create parts or solidify existing parts means I'm always honing my craft. I'm continuing to learn how to be a better session vocalist because I get the opportunity to apply what I've learned, thanks to Robot Holiday.
What's your favorite RH song – of your own as well as that of another member?
I'm not phoning it in when I say, "I love them all" – I really do. There's so much unique storytelling among them all, winter and Christmas/holidays being seen through so many different sets of eyes. As for my own songs, I will always believe "Love to Our Hearts" is one of the best songs I've ever written, but I think this year's contribution will be my overall favorite holiday song. "Have A Good Time" has a great hook, and as always, Jonathan assembled the perfect cast of players to bring it to life.
What's your least favorite holiday song?
"The Christmas Shoes." Anything by Mariah Carey. And I'm going to catch a lot of flak for this, but I truly can't stand Paul McCartney's "Wonderful Christmas Time."
What's your favorite robot?
Dot Matrix from Spaceballs. 
Are there any strange-to-us holiday customs in your native England that could make for interesting material in a future RH song?
Christmas Crackers are the English tradition that carries on in our family. A Christmas Cracker is a cardboard tube stuffed with goodies, with two ends to pull much like a wishbone, and a firecracker sound that goes off when the two parts are separated. Whoever gets the biggest portion wins the prize inside (usually some silly trinket like a mini-yoyo or a whistle or something), along with a riddle, and a silly paper hat that we wear for the rest of the day. It's one of our favorite parts of Christmas.
What other projects are you involved with throughout the year?
I keep busy year-round with a few different musical outlets. I curate a weekly songwriter's circle at the Sportsmen's Tavern called Dee Plus Three, where I invite different local and regional songwriters to share their music. Come spring, work begins for the Elmwood Avenue Festival of the Arts, for which I'm honored to a member of the Performance Committee. I teach introduction to singing lessons to young folks between the ages of 10 and 15 throughout the year, focusing on instilling proper posture and breathing techniques to prepare them for the next stage of vocal training. Over the next year, my big personal project is learning how to play the bass.  
Comments
comments